2023.08.07

Bangladesh
Bangladesh SEZ Ltd. (BSEZ) receives ISP License

Bangladesh SEZ Ltd. (BSEZ) is in the work to start into the operation of an Internet Service Provider (ISP) business in industrial park. On July 18, 2023, BSEZ successfully obtained ISP license from the Bangladesh government, enabling the provision of telecommunication services as ISP to its tenants.

The issuance of ISP business licenses in Bangladesh is subject to restrictions, and this is a noteworthy case in which a foreign private company, not specializing in ISP business, obtained such a license.

Sumitomo Corporation have developed 8 industrial parks including BSEZ in Asian countries. Telecommunication services within those parks have been provided by external telecommunication companies, therefore this is the pioneering case for an industrial park company of Sumitomo Corporation to engage in ISP business.

In order to provide a service that will help the operations of our tenants, we intend to collaborate with KDDI Asia Pacific Pte. Ltd., our partner in this project, and aim to commercialize the service as soon as possible.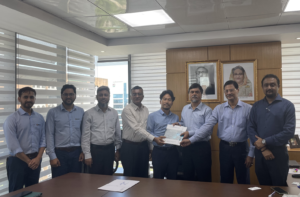 (Picture) BSEZ receives ISP License